Our Story
Kazumi, pronounced as kaa-zu-mi, is a Japanese term which means beautiful harmony.
Founded in 2018 in Mississauga, Ontario, Kazumi Window Coverings is more than just a retailer; we're a family-owned business on a mission to transform your living spaces.
Our journey began with a commitment to quality, elegance, and personalized service. With a dedication to sourcing the finest materials and providing exceptional customer experiences, we're here to help you adorn your home with style and sophistication, making your windows the soul of your space.
Our values revolve around quality, design excellence, and a commitment to personal touch, ensuring that every window covering we offer embodies the essence of our mission:
To enhance your home with beautiful and peaceful harmony using our Fine Window Coverings.
Our Values
Quality

Quality is not just a word for us; it's a standard that we relentlessly uphold. We source the finest materials and fabrics from around the world, setting a high bar for durability and aesthetics. Every product in our collection is meticulously crafted to perfection, assuring you that your investment in our window coverings will stand the test of time.

Design Excellence

Design excellence is at the heart of everything we do. We believe that window coverings are not just functional items; they are an art form that enhances the ambiance of your living spaces. Our commitment to design excellence means that every product in our selection is a testament to the marriage of aesthetics and functionality. We stay at the forefront of trends and innovation to ensure that your window coverings elevate your space to new heights of sophistication.

Commitment to Personal Touch

At Kazumi, your vision becomes our priority. We recognize that every customer is unique, and that's why we approach every project with a commitment to personal touch. Our experienced consultants work closely with you to understand your individual needs, preferences, and dreams for your space. We take the time to ensure that the window coverings we provide are not just products; they are an expression of your personal style and vision. Your satisfaction is our ultimate goal.
Why Choose Kazumi?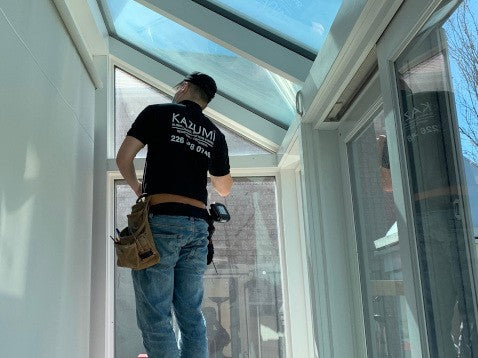 Free In-Home Consultations

At Kazumi Window Coverings, we offer free in-home consultations to ensure that our customers receive tailored advice and solutions. Our experienced consultants will visit your home, listen to your needs, and provide expert recommendations, guaranteeing that the window coverings you choose will perfectly complement your space and style.
Lifetime Warranty on All Window Coverings

We stand by the quality and durability of our products, which is why we offer a lifetime warranty on all our window coverings. This means that you can invest with confidence, knowing that your purchase is protected for as long as you own them, providing you with peace of mind and a lasting sense of satisfaction.
Fits a Variety of Needs and Budgets

Whether you're seeking affordable options to revamp a single room or looking for high-end window coverings for a complete home makeover, Kazumi Window Coverings offers a wide range of products to suit various needs and budgets. Our commitment to offering quality options at different price points ensures that everyone can find the perfect solution for their space.
Local and International Brands

Kazumi Window Coverings curates a diverse selection of both local and international brands. This diversity allows us to provide our customers with a wide range of design choices, from timeless local styles to cutting-edge international trends. Our goal is to offer you the best of both worlds, ensuring your window coverings are a reflection of your unique taste.
Contact Us
Email: info@kazumicovering.com
Phone: 905-800-3288